Volkswagen T5
Price Category C
Number of People : 2
---
For the ultimate small vehicle tour of Britain and Europe, travel in comfort and style in one of our purpose built luxury Volkswagen T5 long range campervans...

...and with prices from just £69* per day, you can't go wrong!


Our VW T5s are purpose built for Campervan Tours and are without question amongst the very best campervans on the road!
On board, you will find a very comprehensive range of equipment including a night heater, a fridge with an ice box, a microwave oven, and an inverter to power small electrical items for times when you are not hooked up to the mains!
Each campervan comes with the 102HP engine which gives you plenty of power whilst also being highly fuel efficienct. For your comfort and convenience whilst driving, all of our T5s have cab air conditioning, electric windows and electric mirrors as standard.
All Campervan Tours VW T5s are based on the specification below:
The latest VW T5 campervan with 102HP engine with cab airconditioning, electric windows and mirrors and the conversion built to our specification
Pop top roof - full standing height and/or additional sleeping space
2 Ring Gas Stove
Microwave oven
Wash basin with running water
Fridge with ice box
Cutlery, pans and cooking utensils
Comfortable rock & roll bed
Inverter - perfect for charging laptops even when there's no mains hook up!
Diesel central heating - keeping the vehicle cosy and warm even when the engine is off
240V Electric hook-up facility with connection cables for UK and Europe
Generous storgage space - based on needs of long haul travellers
All Inclusive Overseas Visitor Package - on every booking!
Bedding set & towels provided
Smartphone with local SIM card and data starter pack
Sat Nav in all of our campervans
Full bottle of camping gas
Outdoor furniture & BBQ
Insurance cover for 2 drivers
No credit card fees
UK VAT Included
If you would like a larger alternative to the VW T5, with an on board shower and toilet, take a look at our - Ford Explorer, Explorer II and also our Tribute 669, which is ideal for exploring the backroads
We also offer a Ford Transit campervan, which is a lower price version of the T5 but with a very similar interior - Ford Transit Campervan

We can also provide quotations for one way drop offs. Popular destinations include: Paris, Rome, Milan, Madrid, Frankfurt, Athens, Glasgow, Edinburgh and Dublin - just mention this when completing the quick quotation and we can give you the cost options before you commit to your other travel plans.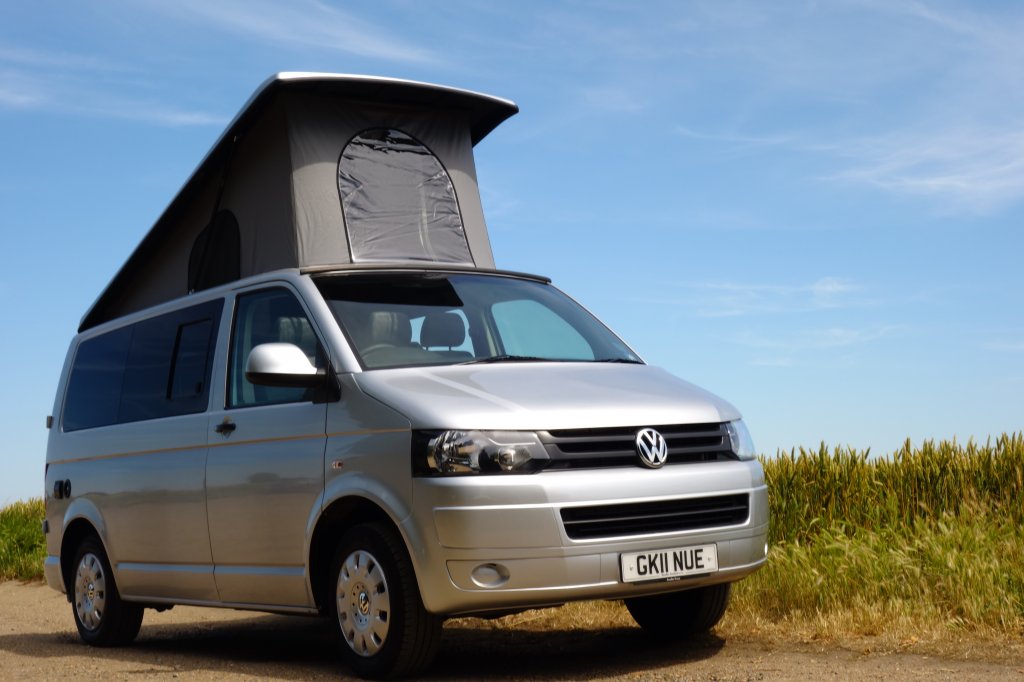 If you want an outline tour plan, just ask, as we have been helping people see Britain and Europe for over 25 years!

Security bond required for this campervan is £750 GBP
DIMENSIONS
Overall length 4.89m
Overall height 2.10m (with pop top roof down)
Overall width 2.25m
HIRE FROM SOMEONE YOU CAN RELY ON

*£69 per day based on winter special between 1 November 2016 and 26 March 2017.