We are good to go ...
We have been working in close collaboration with the travel and hospitality industry to ensure that we adhere to the highest standards to help stop the spread of Covid-19 in order to keep our customers and staff as safe as possible. In recognition of our achievements, we have been awarded the Covid-19 Industry Standard Certificate.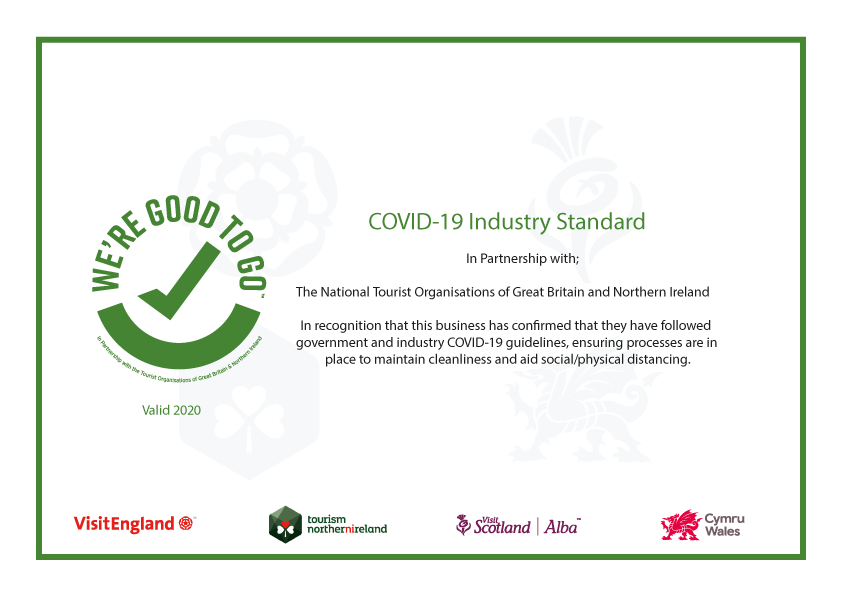 Cleaning & Maintenance

No same day turnarounds and enhanced cleaning and safety checks before every hire

This is not a new policy for Campervan Tours. We don't run tight back to back rentals because of the problems that can arise when maintenance is rushed, and cleaning is superficial. Our campervans go through the most comprehensive checks and are deep cleaned with professional anti-bacterial and anti-viral products before every new hire booking.
Handover and return

Cambridge collection/returns

All handovers are conducted from our office in Cambridge, where we have the facilities to allow us to conduct safe handovers and returns.

If you are arriving at either London Heathrow or London Stansted Airport and you have booked the overseas visitor's top up, our driver will meet you in the arrivals hall at the start of your hire and will return you back to the same location at the end of your hire. Your handover will be conducted in Cambridge, which also enjoys much quieter roads.
In addition to the above, we have devised a new simple booking process as to give you additional peace of mind so that you can book with confidence.
Post Covid - 19 Bookings made from 20 June 2020
Bookings made from 20 June 2020 until 31 December 2021 – removing the financial risk of travelling in uncertain times.

1. Low £200 booking deposit
2. Balance due 42 days (6 weeks) before campervan collection
3. No quibble GTR Policy (government travel restrictions refund)

This means you can secure your reservation for a low deposit and keep most of your money in your bank account until 6 weeks before your hire starting date. In the event of government travel restrictions in the UK or the country where you live preventing you from travelling, your deposit will be refunded (unless you prefer to change your dates of travel).
Pre Covid-19 Bookings made on or before 22 March 2020
During the global pandemic and lockdown, we fully understand that your travel plans might be affected and as such it may not be possible for you to travel during this period. If you are due to travel, most clients are opting to change the booking dates to 2021 or 2022 in order to buy some time and avoid having to make an insurance claim. Once you are in a position to re-book new flights, we can then change the travel dates again to match your new schedule. If you prefer to make an insurance claim, we can provide you with a cancellation invoice. Note that most insurance companies have an excess and some may not provide cover at all. As a vehicle rental company, we have not been mandated to close and we remain open. With the exception of the above, our normal booking conditions apply .